"This should be a required WordPress
plugin for anyone concerned about
search engine rankings..."
It's no secret WordPress blogs are the loved child of Google - especially when it comes to rankings!
In fact, WordPress powers close to 165,000 of the top one million websites on the Internet. Oh, and 22% of new websites are created on WordPress.
In the past, just having a WordPress site was an SEO advantage in itself... now since almost ever smart marketer uses WordPress... that advantage is gone.
The real advantage these days - when it comes to improving the ranking of your blog in the search engines - is not WordPress itself... but in its plugins.
What The Average Person Isn't Aware Of When
It Comes To Search Engine Optimization
You probably know the 3 biggest factors to SEO success are...
On-Page Optimization - the content and structure of your website can determine if Google will reward or penalize your site...
Backlinks - incoming links that point to your web page(s)... Google looks at these like "votes" for the value of your content...
Social Signals - Google found it's smarter to rely on PEOPLE than robots to determine what is and isn't relevant...
What you might not be aware of is this: most people who attempt to succeed with SEO are like Kama Sutra experts...
who know 362 sex positions
but can never get a date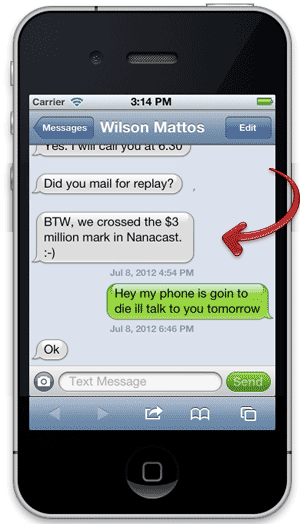 How am I qualified to make this observation? My name is Jason Fladlien and I've seen millions of dollars come through my PayPal and merchant accounts...
All generated from my various web pages I have out there in cyber space.
I've sort of become the go-to person that those in the know turn to when they need to deal with that latest trend... because I always have my pulse on what does and doesn't work in this ever adapting Internet marketing environment.
In fact, far more people attempt to pay my $250 an hour consulting fee for advice than I care to take on.
Which sort of blows my mind because $250 for an hour just to talk to me on the phone seems expensive... yet people happily pay it, because it's an investment for them - and my advice usually returns them profits many fold of my hourly consulting fee.
No, this isn't a pitch for my consulting services... rather a point that's being made: I always know what is and isn't working, because I'm constantly being paid to dialog with some of the sharpest minds in Internet Marketing - who swear by my advice.
Here's the advice I've been telling them lately with search engine optimization - "go basic."
Say What?
Remember our sex expert who knew all kinds of ways to please a woman but could never even get a date?
Well, most Internet marketers are all about these super advanced search engine optimization techniques...and it just gets plain ridiculous.
What is advanced? Here's a taste of some of the stuff I consider "advanced:"
Link Wheels - you build a bunch of different sites that intricately link to each other in ways that are supposed to be hard for search engines to notice....
Google Author Markup - this will get your picture to show up next to search results... the idea is not only will it help click-thrus but it MIGHT improve search results...
RSS Feeds - supposedly Google likes to see "activity" on a site, and if RSS feeds are continually updating things automatically, this has to be good, right?
Auto-Blogging - the theory that Google likes quantity, or conversely if you throw enough crap at the wall, something will stick...
In addition, SEO consultants often tout page load speed, language translation, canonicalization, schema microdata, and all kinds of other cool sounding, yet confusing, terms and techniques...
Some of this stuff can help (at least now) if done properly... yet many of these things are like fruit - they spoil with age and become no good.
Point being: you're probably wasting time in learning and execute these things - and I'm guessing that since your time is limited, you're sacrificing fundamental SEO practices for this supposed advanced stuff.
Sigh.
The Shocking Results
Of A Random Test...
For fun one day, I went through some of my customer's blogs. I tried to find ones that were focused on using the search engines to generate their traffic.
What I did was "audit" these pages with my 9 point, on-page SEO checklist.
The first site only scored 3 out 9 (33%)
The second site did worse with just 2 out 9 (22%)
The third site got barely over half of it right, getting 5 out 9 (55%)
Out of the 20 sites I looked at, only 2 had a 100% score...
On The Flip Side...
I put some random "long tail" keywords in a Google search and took the top results. I did this with several different keyword phrases in a variety of different niches.
Here's what I discovered: almost always, the top 10 first-page results had at least an 88% score of better. Coincidence? Hardly.
From these findings a concept started to develop...
What if I could create a WordPress plugin... that automatically analyzed any blog page or post you created... and gave you an SEO score based on the 9 critical search engine optimization factors?
Measure My SEO Was Born
It works like this. You install the plugin. Then you can either
Create a brand new blog post or page
Analyze an existing blog post or page
Regardless, when you go to that entry, you identify you keyword(s) and the software will automatically analyze your content... and report back a score.
This can be a rude awakening!
I had a client recently install and configure Measure My SEO on an exiting blog that had 16 posts... he almost had a nervous breakdown when he saw something like this:
Not a single score of 100%! Yet, here is the good news: a day later he reported back to me that each of his 16 posts had been fixed and now he had 100% across the board!
Can be set up in minutes!
As soon as you invest today, you can download the Measure My SEO plugin instantly.
If you're using it on an existing blog just activate the plugin, then identify the keyword information for each blog page or post you want to score/optimize and measure my SEO will tell you what you're doing right and what you need to fix.
If you're installing this on a new blog, great! Now when you create your content, Measure My SEO can tell you in real time what your score is... so as you write/create your content you'll see your score continually improving!
Like this:
Comes With Excellent Documention
Not only do you get immediate acces to the plugin when you sign-up today...
You can also download our concise yet complete training manual on exactly how to use Measure My SEO.
If for any reason you need any technical help though, you can also contact...
Our Top Quality Support Staff!
We have dedicated, full time support staff folks who are well versed in our software and can help you with any issue you may encounter... big or small.
It's their job to respond quickly to your support queries and help you in the rare chance you might encounter a problem or issue.
In fact, go ahead and bookmark our help desk now just in case you might need help later. Or if you want, our support desk link can be found on every single one of our pages and in all of our members areas. We're here for you...
Your Investment: $49.95
Your Risk? $0.00
Listen: I don't care if it's one hour from now, or 3 weeks from now - if you ain't happy, I ain't happy.
Purchase right now. Try it out. If you like it, great! We exchanged a small amount of money for a large amount of value. Awesome!
If it's not for you, don't even give me a reason why you want your money back.
Just ask for it - and it will be returned promptly and quietly to you. Plus, we can still be friends. By the way, here is our support desk, http://support.measuremyseo.com/, should you need to request a refund or need any product assistance at all with your purchase today.
Yes Jason, I'm In!
I understand I'll get immediate access to Measure My SEO as soon as I click the add to cart button below and process my order. I get...
Measure My SEO WordPress Plugin with a special 'unlimited license,' meaning I can use it on as many of my own WordPress sites as I wish
Documentation of the software so I know exactly how to install it and use it!
Support by dedicated, full-time support staff - I get access to around the clock support on weekdays and limited support on weekends
I'm also aware there is a 30 day risk free money back guarantee period - during that time for any reason or none at all I can request a full refund, so I risk nothing and gain everything by signing up below now:
This Offer Is Closed.
P.S.: Remember, we reserve the right to raise the price for the Measure My SEO plugin at any time, so don't delay. Get it now.